KENNY SCHICK
Post Modern Americana, Expressionist, Singer Songwriter
LATEST RELEASE
KENNY SCHICK – THE FIXER
SPOTIFY  |  APPLE MUSIC  |  BANDCAMP  | TIDAL
Kenny Schick's The Fixer single is Rock, Progressive, Alternative, Ominous, Atmospheric, Austere, Dark, Detached, Epic, Gloomy, Mysterious, Regretful, Resolute, Serious, Suspenseful, Electric Guitars, Percussion, Drums, Male Vocals, saxophone, electronic sounds.
---
UP AND COMING GIGS
July 30 , 2022 – THE BOWERY VAULT (9pm) with GREG CAMP & Doc Downs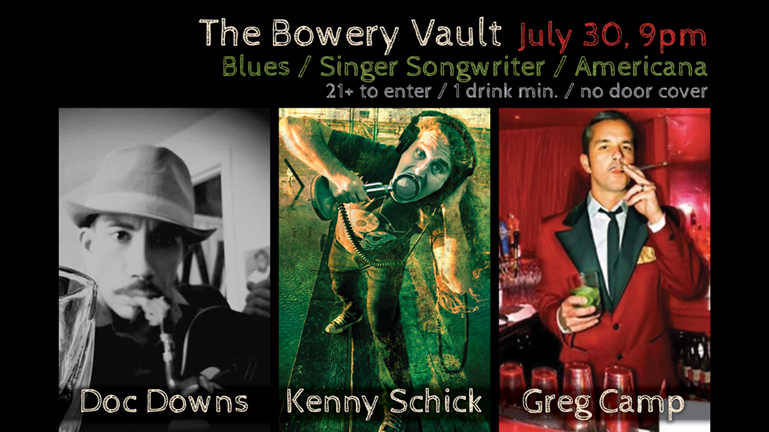 ---
MUSIC VIDEOS / SINGLE RELEASES
KENNY SCHICK – STEAL THIS DANCE
SPOTIFY  |  APPLE MUSIC  |  BANDCAMP
---
KENNY SCHICK – C'MON C'MON C'MON
SPOTIFY  |  APPLE MUSIC  |  BANDCAMP
---
KENNY SCHICK – THE GHOST OF NASHVILLE
SPOTIFY  |  APPLE MUSIC
---
KENNY SCHICK – ONE
BANDCAMP  |  ITUNES  |  CDBABY  |  AMAZON  |  PANDORA  |  SPOTIFY  |  GOOGLEPLAY  |   INSTAGRAM  |  FACEBOOK
Kenny Schick is a solo singer/songwriter,  just him with his weathered acoustic guitar supporting his lilting tenor vocal, however, his musical life began in bands, very loud bands. Kenny's live audiences feel his passion – the experience of decades of performance in every imaginable genre and the observations of one who takes the sometimes tumultuous road less traveled.
Kenny has a loyal following and at his shows, there is laughter, tears, musical craftsmanship, and thought provoking lyricism. The shows take listeners on a journey and include them in it, with much banter back and forth. Because Kenny is a generous performer and knows the audience is an equal part of the performance. He often hears he'd have a great career as a comedian if he chose, and the comic relief is a great balance to the songs, which often explore the darker realms of human experience.
Kenny represents a dream that never died, a guy who found his calling in music as a 13 year old and he took the 'bull by the horns', and never turned his back on his passion for music, to 'get a real job'. He did, however, take his love of music and turned it into a real job as a music producer. He does music full time, writing, recording and performing (when he can) and working with other artists to produce unique music for them too.
---
NEWS NEWS NEWS
Kenny Schick released new Dot3 documentary website DOT3MUSIC
Dot3 was one of San Francisco Bay Area's most popular bands of the 80s/90s
RUSH COVER: 'Limelight' – We won 3RD PLACE in the InDABA competition! #rushtheband #ole #artemesiablack #kennyschick – Kenny played all the parts produced, recorded, mixed and mastered.
RAW ARTISTS – Musician of the Year 2015 – @ Motif San Jose – rawartists.org/artemesiablack
---
---
PAST SHOWS
APRIL 9, 2022 – THE BOWERY VAULT (SHOWS 7PM & 7:45PM) with Lorie Jo Bridges
10 March 2020 – The 5 Spot, East Nashville
13 August 2019 – The Basement Nashville 8pm
1 August 2019 – with The Mike Drew Band – Douglas Corner Nashville 6pm
31 July 2019 – with The Mike Drew Band – The Bowery Vault Nashville 6pm
27 May 2019 – With the Night Drivers at Joe's Bar
13 July 2018 – With Mike Drew at Mountain Charleys in Los Gatos
Friday 6 October 2018 – Private Party Wedding as ArtemesiaBlack
19 May 2018 – playing with Dr Sig's Family Band Portola Valley
3 March 2018 – playing with Mike Drew at Mountain Charlies Los Gatos
Thursday 25 May 2018 – In the Studio with Heather Courtney & DBWalker LIVE ONLINE SHOW
22 April 2017 – Private Party with Dr Sig's Family Band
29 April 2017 – Dr Sig's Family Band
17 March 2017 –  St. Patrick's Day @ The Poor House Bistro
4 November 2016 – CTV Santa Cruz TV show (Interview)
11 November 2016 – Mountain Charlie's with Mike Drew and ArtemesiaBlack
12 November 2016 – Art Boutiki with Martha Groves Perry & ArtemesiaBlack29 October 2016 – DubNation – Moe's Alley Santa Cruz
8 October 2016 – Private Party with Dr Sig's Family Band
24 September 2016 – Red Gate Festival with Dr Sigs Family Band
28 June 2016 – Judge at West Coast Song Writers WCSW competition Redwood City
24 June 2016 – Mountain Charley's, Solo and playing with Mike Drew
17 June 2016 – San Pedro Square with Eddie Torro Blues Band
13 May 2016 – Judge at West Coast Song Writers WCSW competition Palo Alto
7 May 2016 – with DB Walker Band Pascadero Barn
8 April 2016 – Wedding in Carmel – Saxophone
18 January 2016 – Judge at West Coast Song Writers WCSW competition Berkeley
8 January 2016 – Judge at West Coast Song Writers WCSW competition Palo Alto
5 September 2015 – Playing at Pascadero Barn with DBWalker Band
28 August 2015 – Private Party
28 July 2015 – Judging West Coast Song Writers Competition at Angelicas
4 July 2015 – Playing at Pascadero Barn with DBWalker Band
20 June 2015 Playing with Night Truckers at the Summit
9 June 2015 – Playing with ArtemesiaBlack at Harmony Night Little Lous
30 May 2015 – Playing with Truckers at Hen Flings
9 May 2015 – Playing at AppleJacks with DBWalker Band & Hershel Yatovitz (Chris Isaak band)
1 May 2015 – Playing at Pascadero Barn with DBWalker Band
4 April 2015 – Playing at the Cats Los Gatos
17 March 2015 – Playing at the Poor House Bistro playing with the Po Boys
7 March 2015 – Playing at Pascadero Barn with DBWalker Band
17 January 2015 – Playing at Pascadero Barn with DBWalker Band
11 November 2014 – Little Lou's Singer Songwriter Night
17 September 2014 – RAW ARTISTS EVENT – Motif San Jose
27 September 2014 – Red Gate Show
28 September 2014 – Menlo Park Show
15 August 2014 – Kenny Schick with DB Walker Band – Boulder Creek Country Club 7pm
16 JULY 2014 – Peninsula Jewish Community Center with Gail Weisman – 5.30pm
27 July 2014 – Lazy Sunday Showcase – Pacific Brewing Company – 4-6pm
12 August 2014 – Little Lou's BBQ Campbell – Songwriter Night – 7:30pm
4 July 2014 – with Guilded Splinters – Poor House Bistro – 2-6pm
12 JULY 2014 – Blue Rock Shoot – ArtemesiaBlack and Kenny Schick – 7.30pm – Buy Tix $10.00
23 JUNE 2014 – KC Turner Presents Acoustic Bistro – w Evan Brown – Osteria San Francisco – 7.30pm
10 JUNE 2014 – Little Lou's BBQ Campbell – Songwriter Night – 7.30pm 10 May 2014 – SOLD OUT! ArtemesiaBlack & Kenny Schick – Blue Rock Shoot – 7pm
Fri. February 28 – with ArtemesiaBlack & Amy Obenski @ Red Rock Coffee, Mountain View 8pm
Tues. March 11 – with ArtemesiaBlack, Amy Obenski, David Colon @ Hotel Utah
Fri. March 14 – with Hoopty @ Little Lou BBQ
Thurs. January 23 – with Hoopty @ Private Party
Sat. January 26 – with Hoopty @ Little Lou BBQ
November 10 – with Hoopty @ Moe's Alley
November 17 – with Hoopty @ Moe's Alley
Sat. November 23 – with Hoopty @ Moose Lodge
Fri. November 1 – 7pm, 8pm, 9pm – DAY OF THE DEAD FESTIVAL @ The Mudpuddle Shop
Fri. October 11 @ Moe's Alley with Hoopty Funk
Sun. October 13 with Hoopty Funk
Sat.
October 19 @ The Trout Farm – with Hoopty Funk
Sat.
September 14 @ Blue Rock Shoot – with ArtemesiaBlack and Chris Jercha
Fri. September 27 @ Little Lewis BBQ – with Hoopty Funk
Fri. October 4 @ The Woodshed – with Singer Songwriter showcase
Sat. September 7 @ San Jose – with Hoopty Funk
Fri. August 9 @ Monteray Reggae Festival with Southbay Dub Allstars
Fri. August 9 @ The Crow's Nest – San Francisco with 'Soule Faction' with Southbay Dub Allstars
Sat. August 17 @ The Woodshed – Los Gatos 'HOME RECORDING WORKSHOP'
Sat. July 27 @ Johnny Vs with 'Dustonius Maximas' with Southbay Dub Allstars
Fri. June 21 @ Mojo Bicycle Café – 640 Divisidero San Francisco HEAR IT LOCAL ACT 1pm
Sat. June 22 @ Boulder Creek Park with Hoopty Funk 12-2pm
Sat. June 28 @ Sound Room Oakland with Hoopty Funk 8-11pm
Thu. July 4 @ Poor House Bistro in San Jose with Guilded Splinters
Sun. July 7 @ Neck of the Woods – featured artist – San Francisco @ 7pm with ArtemesiaBlack
Sat. July 13 @ Old Princeton Landing in Half Moon Bay with Southbay Dub Allstars
Thurs. June 6 @ Maggie Macgarry's Irish Pub in San Francisco
Fri. June 7 @ Nativity Spring Carnival Menlo Park with DB Walker & Hershel Yatovitz (Chris Isaak) 6-10pm
Friday May 25 @ San Jose Taco Festival with Hoopty @ 1pm
Friday May 25 @ Red Rock Mountain View with ArtemesiaBlack @ 8pm
Thurs. May 16 @ The Catalyst in "The Atrium" Southbay Dub Allstars, 'Ancestree', and 'Soule Faction'
Friday 12 April – 'SHUFFLE' Cd release show #1 – Blue Rock Shoot Saratoga
Saturday 13 April – 'SHUFFLE' Cd release show #2 – Blue Rock Shoot Saratoga
Saturday March 14 – @ Chris's New Harbor with DubFx
Saturday March 30 – @ The Crow's Nest in Santa Cruz with DubFx
Saturday April 20 – 420 Party @ Old Princeton Landing in Half Moon Bay with DubFx
Saturday May 4 – @ Nine Lives with 'Just Chill' 7430 Monterey St. Gilroy with DubFx
Friday February 15 @ Neck of the Woods – San Francisco with 'Haleamano' and DubFx
Saturday February 16 @ Longboard in Pacifica with 'Nesta' and DubFx
Saturday 16 February – Bob Marley B-day celebration -Longboard's in Pacifica – with DubFx
Saturday 5 January 2013 – Crows Nest – with DubFx
Monday NYE 31 December – Half Moon Bay – 10-2 with DubFx
Monday NYE 31 December – Poor House Bistro – 6-9 with Jay and the Po' Boys
Thursday 27 December – Poor House Bistro – with Guilded Splinters
Saturday 17 November – Chris's Harbor – with DubFX
Sunday 28 October – Picchetti Winery – with ArtemesiaBlack (1pm-4pm)
Saturday 13 October – Oakland – with DBWalker
Monday 8 October – KC Turner Presents Acoustic Bistro – Osteria San Francisco – 7.30pm
Sunday 30 September – Oakland – with DBWalker (3pm – 7pm)
Sunday 2 September – ArtemesiaBlack – Don Quixotes (7.30pm)
Saturday 8 September – Private Party – Wedding – with DBWalker
Saturday 11 August – Lake Chalet Oakland – with DBWalker (3pm)
Saturday 18 August – Winery – with Guilded Splinters (3pm)
Friday 24 August – Catalyst Santa Cruz – wtih DubFx (9pm)
Saturday 25 August – Crows Nest Santa Cruz – with DubFX (9pm)
Saturday 7 July – Apple Jacks Lahonda – with DBWalker Band (9pm –1am)
Saturday 21 July – Chris's New Harbor – with DubFx + Pure Roots (9pm)
Friday 27 July – Johnny V's – with DubFx + Drunken Star Fighter (9m)
Saturday 28 July – Private Party Gilroy
Sunday 1 July – Poor House Bistro – with Guilded Splinters (2pm)
Saturday 19 June – Beer Festival Scotts Valley – with DubFx (2pm)
Sunday 24 June – Sierra Nevada World Music Festival – with DubNation (2pm)
Saturday 16 June – with DubFx
Thursday 14 June – Avalon Santa Clara – with Neosoreskin + Fungo Mungo + (8pm)
Friday 8 June – Private Party – with ArtemesiaBlack
Sunday 27 May – Princeton Landing Half Moon Bay – with DubFx
Saturday 26 May – Private Party – Wedding
Tuesday 22 May – Don Quixotes Felton – + Elisabeth Carlsile + Ali Handel
Sunday 20 May – KPIG Radio + Elisabeth Carlsile
Saturday 12 May – with Native Elements (1pm)
Saturday 12 May – Private Party – with DubFx (7pm)
Friday 20 April – 420 Festival Oakland – with Native Elements (8pm)
Friday 13 April – with DBWalker Band (9pm)
Friday 7 April – with DBWalker (9pm)
Saturday 17 March – Britania Arms San Jose – with DubFx (5pm)
Saturday 17 March – Poor House Bistro – with Jay & the Po Boys (8pm)
Friday 2 March – Long Board Pacifica – with DubFx (8pm)
Friday 18 February – Apple Jack's – with DBWalker (9pm)
Friday 3 February – Apple Jack's – with DBWalker (9pm)
Saturday 31 December – Poor House Bistro – with Jay & the Po Boys (7pm)
Friday 30 December – Apple Jack's – with Guilded Splinters (8pm)
Friday 23 December – Poor House Bistro – with Guilded Splinters (8pm)
Tuesday 20 December – Private Party
Friday 18 November – Blank Club – Dot3 Reunion Show – (8pm)
Monday 14 November – KC's – (6pm)
Saturday 12 November – Crow's Nest – with DubFx (9pm)
Sunday 30 October – Poor House Bistro + ArtemesiaBlack + Fear of Bridges (4pm)
Friday 28 October – Trader Vics – with DubFx (9pm)
Thursday 27 October – Crow's Nest – with DubFx (7pm)
Friday 7 October – Blank Club – with DubFx (5pm)
Friday 23 September – Reunion – with DbWalker (6pm)
Thursday 15 September – Private Party Wedding Carmel
Sunday 11 September – Poor House Bistro – with Jay (2pm)
Saturday 10 September – RedRock Mountain View (7pm)
Saturday 10 September – New Harbour Santa Cruz – with DubFx (9pm)
Sunday 4 September – Poor House Bistro – with Guilded Splinters (4pm)
Saturday 20 August – Reggae in the Redwoods Aptos – with DubFx (1pm)
Saturday 20 August – Tim's Benefit Show (the Brownies) (7pm)
Saturday 13 August – Crow's Nest – with DubFx (7pm)
Sunday 17 July – Britania Arms – with DubFx (2pm)
Saturday 16 July – Sam's Chowder House – with Guilded Splinters (2pm)
Saturday 16 July – Half Moon Bay – with DubFx (8pm)
Saturday 9 July – Private Party Wedding
Thursday 7 July – Crow's Nest – with DubFx (6pm)
Monday 4 July – Poor House Bistro – with Guilded Splinters (3 – 7 pm)
Wednesday 29 June – Capitola – with DBWalker Band (7pm)
Saturday 25 June – City Lights Theatre – ArtemesiaBlack (7pm)
Sunday 19 June – Piquette Winery Cupertino – ArtemesiaBlack (1pm)
Sunday 4 June – Poor House Bistro – with Guilded Splinters (2pm)
Sunday 4 June – Apple Jacks – DBWalker Band (8pm)
Friday 3 June – Moe's Alley – with DubFx (7pm)
Thursday 19 May – San Francisco – with Guilded Splinters (10pm)
Saturday 14 May – La Honda – DBWalker band (7pm)
Sunday 8 May – Poor House Bistro – with Guilded Splinters (2pm)
Sunday 1 May – Wharf Hotel – with DBWalker band (1pm)
Friday 15 April – Grand Dell Hotel – with Guilded Splinters (6pm)
Saturday 2 March – Apple Jacks – with DBWalker Band (8pm)
Friday 1 March – with DBWalker band (9pm)
Friday 18 March – Grand Dell Hotel – with Guilded Splinters (8pm)
Sunday 6 February – Poor House Bistro – with Guilded Splinters (3pm)
Saturday 5 February – Apple Jacks – with DBWalker band (9pm)
Saturday 19 January – Redwood City – with DubFx (9pm)
Friday 11 January – Grand Dell Hotel – with Guilded Splinters (8pm)
Saturday 5 January – BlueBiYou – with Guilded Splinters