West Coast Songwriters Conference
Saturday September 10, 2022 (Kickoff Friday Sept 9)
CAÑADA COLLEGE in Redwood City, CA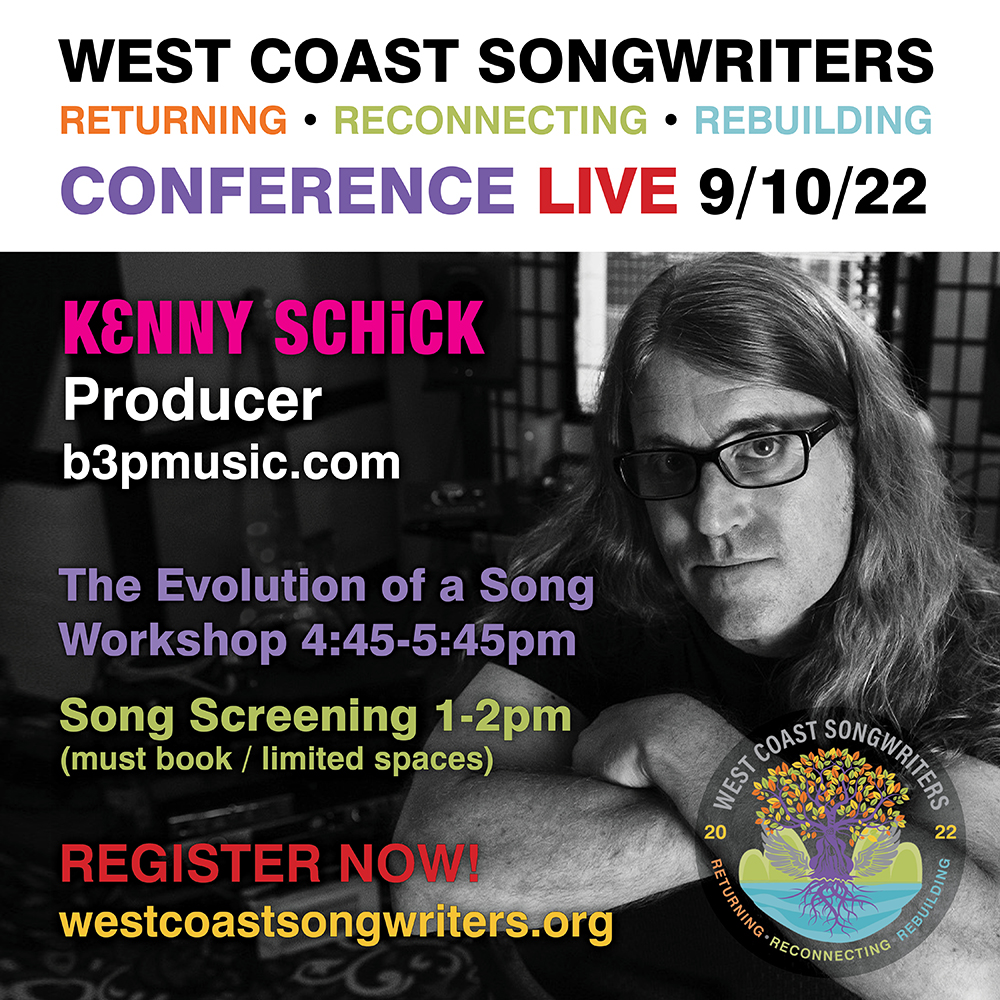 Kenny Schick Workshop – The Evolution of a Song 4:45-5:45
Kenny Schick Song Screening 1-2pm
The Evolution of a Song – this year's workshop will take the participants from demos to masters. Kenny will talk about how a song is built and what to think about as you are creating. These workshops are always popular because they are filled with so much information. There is time to ask questions and importantly Kenny makes them fun.
The 2022 Conference is WCS's 42nd Anniversary and the longest running continuous music conference of its kind in the country. This event and all others (15+ per month) are run by volunteers and have been for 40 years and on a shoestring budget.  You will get a chance to meet fellow musicians and industry leaders volunteering their time to mentor in the full day of seminars, workshops, and mentoring sessions in an intimate setting.
Conference participants are provided the rare opportunity to: 
participate in one-on-one consultations with industry leaders at the top of their game,
develop networking opportunities and meet collaborators,
attend songwriting seminars and legal workshops
learn about the latest industry standards
participate in voice coaching, sound quality & stage presence instruction,
review their lyrics with professional songwriters,
present their songs to industry professionals for feedback
perform at showcases.
WCS 2022 CONFERENCE – YOUTH SCHOLARSHIP! 
West Coast Songwriters is announcing a Youth Scholarship for it's upcoming Annual Conference Saturday September 10, 2022. The Youth Scholarship will be for 22yrs and under.  Applicants must submit the form LINK below along with a an essay (250 words or less) on what they would hope to get out of attending the Conference and links to their music – website, youtube, soundcloud, etc. The application PDF should be sent to [email protected].
If you are unable to submit the application electronically you may mail a hard copy plus CD to West Coast Songwriters 303 Twin Dolphin Drive, Suite 600, Redwood City, CA 94065.  Winners under 18yrs must have signed permission and release form signed by parent or guardian to participate.