C'Mon C'Mon C'Mon
by Kenny Schick
c'mon no one else can sing your song
Written, Performed, Produced, Recorded, Mixed & Mastered by Kenny Schick
Video by Jessica Fong – Adapted Creations

Start of life
C'mon C'mon C'mon started its life on a different trajectory than it ended up on. Originally, I was writing a song for a placement opportunity, and the basic feeling was supposed to be 'nostalgic'. I got that part moving along just fine, and as it's written now, that part would have worked out. Samples were given as an idea for the type of sound and feel they were looking for which lent toward a melancholic pop/indie vibe. Usually, that is right up my alley, as well as those familiar music know. But when I'd play the song, which at first was just on acoustic guitar, I kept playing it at a certain speed, and that speed took it out of a melancholic feel. I tried to slow it down and make it more weepy, but nope, this song wouldn't have it.
I abandoned my initial mission, forgot about the placement, and served this song as it wanted to be served. It just wanted to be kind of a Brit pop type thing—a hair punky, with an upbeat feel. There was a whole other section of lyrics in the bridge, which is just instrumental now—where the widdley-woo guitar solo is. They were cool, but it was murky and just wasn't working, so I went for some guitar fun, which fits the theme of the song, as it ended up being about my musical journey in a way, and it was ripping guitar riffs that pulled me into music in the first place.
The idea of the song is that musical styles, and even fashion styles (which often accompany music styles) always seem to repeat and come back around again… what was in style once will likely come around again—I mean, how many times has
punk rock
come and gone now?
We saw a time in the 90's when the old swing sound came back around again (and everyone sounded like an updated
Cab Calloway
), rock-a- billy had it's day again in the 80's and brought with it that 50's fashion, and here in Nashville on our favorite local radio station,
Lightning 100
, I hear so many bands that sound like they've revisited the 70's and 80's again for inspiration.
I've had a few questions asked of me regarding the line
'the drink and then the sound is brown, 'til the strong and clear take down the town…'
— the brown drink is whiskey, the brown sound was what
Eddie Van Halen
's sounds was labeled. Both of those fell out of favor at some point, but now we know bourbon is the big thing again after the years when strong, clear liquors became popular and almost destroyed the bourbon industry— and the 80's saw that more clean sound (drum machines, clean guitars, etc.) swallow the big guitar sound. Then came the whole grunge movement and 'alternative' bands like
Tool
,
Dinosaur Jr.
, and
Smashing Pumpkins
that brought back the wall of sound again.
And so it goes…round and round… what you like may pass out of favor, but it will come back around.
So sing your song!
WATCH THE VIDEO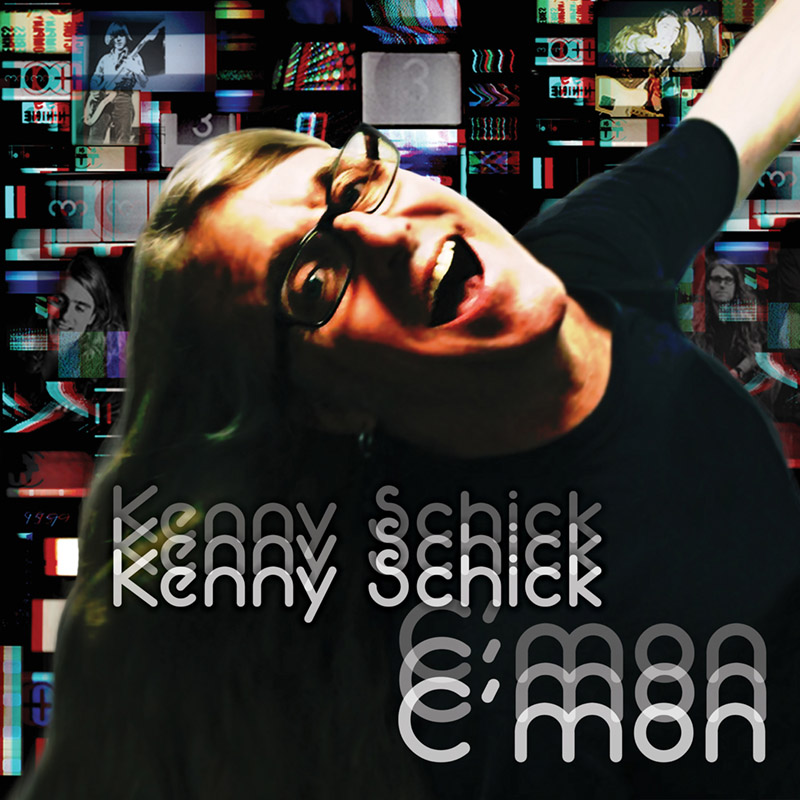 LYRICS: C'Mon C'Mon C'Mon by Kenny Schick
Verse
Yesterday or years ago
it's all the same and we don't know
that time's moved on
and nothing's gone
we talk away the day and so
the night walks in and steals the show
it's been too long
still sing that song
the one that's always dances in my heads
the tune that always gets me out of bed
chorus
Na Na Na Na Na Na Na
C'mon C'mon
Life's as short as the day is long
c'mon c'mon
no one else… can sing your song c'mon c'mon c'mon
Verse 2
the latest style it's all the rage
it flies away and leaves the cage
and then it's gone
but not for long
the drink and then the sound is brown
'til the strong and clear take down the town
for today
but it's ok
cuz it won't be long 'til we see you again
and the coolest kids will want to be your friend
Bridge
it's new, it's old, it's bought and sold
the salvage yard then solid gold
and should it stand the test of time
rewrite the lines repeat the rhyme