Those in the music industry know of the infamous NAMM (National Association of Music Merchants) trade show that happens every January in LA(Anaheim).
Photography by Kenny Schick – Kenny is a music producer, engineer, singer songwriter & photographer, living in Nashville TN (from the Bay Area CA)  (see more photos here)
It is described as "the world's largest trade-only event for the music products industry", and you have to have a pass to get in. It's mostly sellers and buyers of music related products/new products showing and buying gear, but there are all sorts of performances and famous people sightings too. In June, there is also Summer NAMM Nashville —it is the little brother(or sister—not sure if NAMM is male or female… let's call it 'gender neutral' and say 'sibling'), and like it's bigger sibling, there is also lots of cool gear and famous people to be seen.
The Summer NAMM Nashville is a bit more geared toward industry meeting and professional development. Along with all the booths of gear, performances, and mingling, my favorite part of the NAMM show(s) is the educational opportunities/events—here, there are panels, discussions and all sorts of meetings of minds with the intention of bringing forth ideas about where the industry is headed in terms of technology, education, artist promotion, etc.
Most of my days at Summer NAMM Nashville were spent at panels about music and recording technology, the future of recording, and ideas for artist promotion. One of my main goals was to meet folks here in our new adopted city who are in my industry and love music as much as I do, so I spent most of June 28th – June 30th hanging out in the Music City Center in heart of our great city.
TEC Tracks
Well what did I learn and who did I meet? I started out at a TEC Tracks panel called 'Crafting A Hit Record', hosted by Chandra Lynn (Glow Marketing & founder LinkedIN).  On the panel were mastering engineer Andrew Mendelson (Georgetown Masters), singer-songwriter Jeffery Steele, and record producer Tony Brown (record_producer). It was a lively discussion from the perspectives of writers/performers and those on the production side—plenty of great studio stories and live performance perspectives on what works and what doesn't—a good lesson in learning from mistakes and sticking to your guns!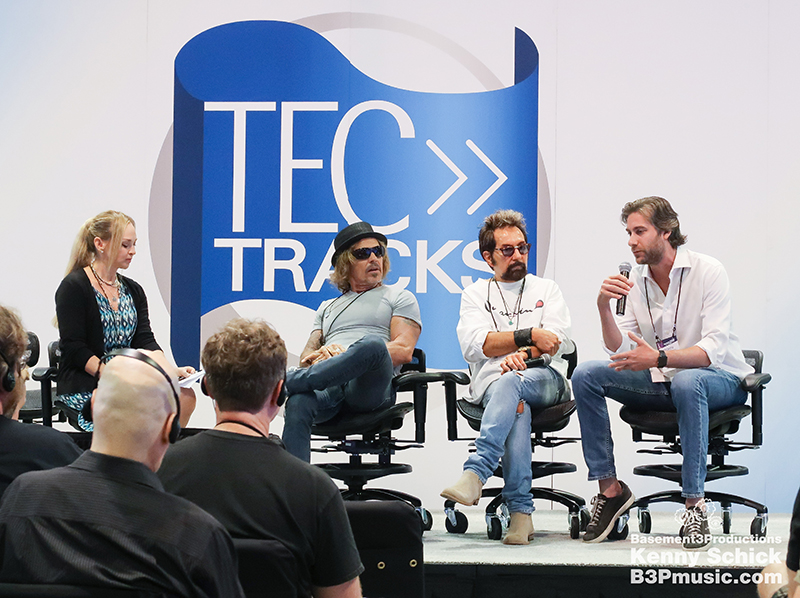 Next, I attended 'The New MIDI for a New Generation of Project Studios' panel. Here, our host pianist composer Joseph Akins, along with Singer Songwriter/Producer John Kurzweg, Producer Ryan Prewett, and Producer Scott Gerow, discussed new directions and ideas for how MIDI is used in today's modern world of production. Perspectives came from folks like me who use midi to augment and blend with real instruments to folks like Ryan who use almost all MIDI in production.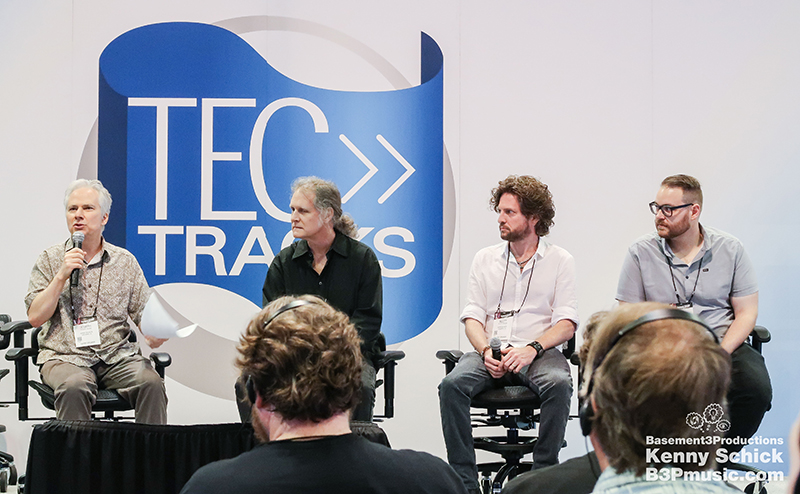 Another panel I stayed for at Summer NAMM Nashville that day was called 'Getting Paid and Credited—Lessons in Self Preservation'. This was very interesting and informative, and addressed the issues of how credit is often not given in the digital age, as there is not so much focus(as in the past) on albums with album notes etc., combined with the fact that it's pretty much the wild west in terms of distribution/dispersion of music. This is not just the case for songwriters and performers, but for producers and engineers too—we often get jobs based on our past work, so it's important, damn it!
Moderated by Producer Jeff Balding, panelists Lady Antebellum's Dave Haywood, Jaxsta's (official music credits) Dick Huey,  Audio Engineer Gebre Waddell, and Recording Artist Hunter Hayes had compelling insights. Two companies, Dick Huey's Jaxsta and another company, Sound Credit are trying to help make data bases to better handle this issue.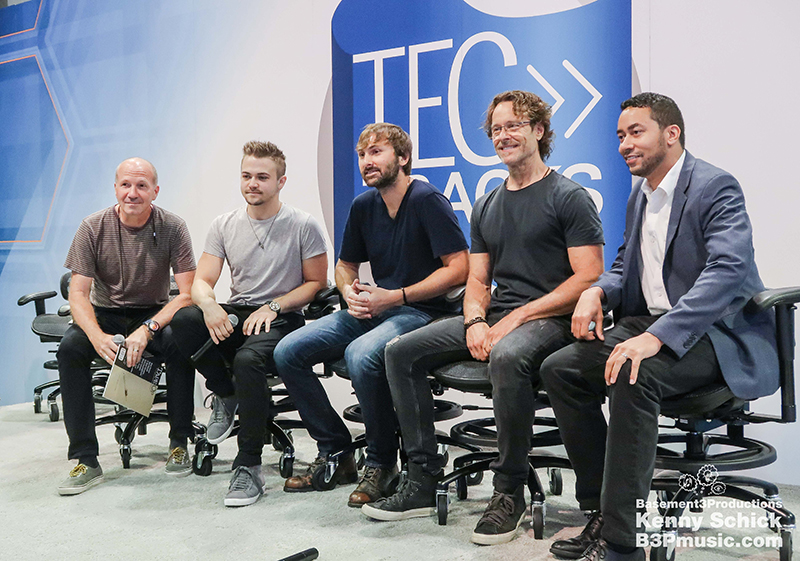 I attended the opening night party at Summer NAMM Nashville where American Eagle Awards were given to Chick Corea and Manhattan Transfer for their contributions in music… great performances by Chick Corea, the Manhattan Transfer, and flutist Hubert Laws.
Friday, I went to the Studio Engineering Summit featuring Chris Lord-Alge's studio heros! yay! featuring Julian Raymond and Nick Raskulinecz, producers who have all done records all of you know, it was just fun and exciting for me being such a studio geek…plain and simple as that! Also on the panel was Doug Wimbish, bass player from Living Color…. super great dude.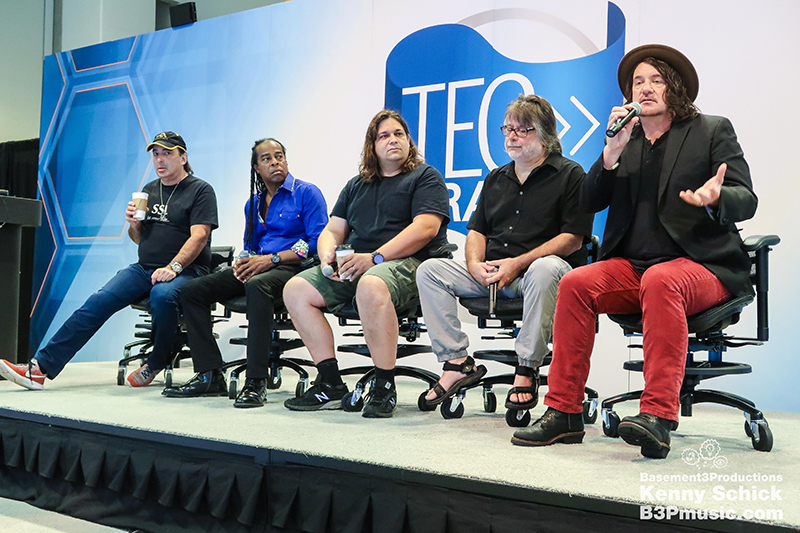 Next up was the Studio Owners Panel moderated by Sharon Corbitt-House with panelists Aubrey Preston, Juanita Copeland , Producer David Kalmusky, and Pat McMakin . Many of the coolest studios in Nashville(and the world) were discussed, as these folks have been in charge of several of them from Ocean Way to The Sound Kitchen to Sound Emporium, and new studios like David Kalmusky's cool Addiction Sound. And of course, there was a discussion on the saving of infamous RCA Studio B—thank you Aubrey Preston!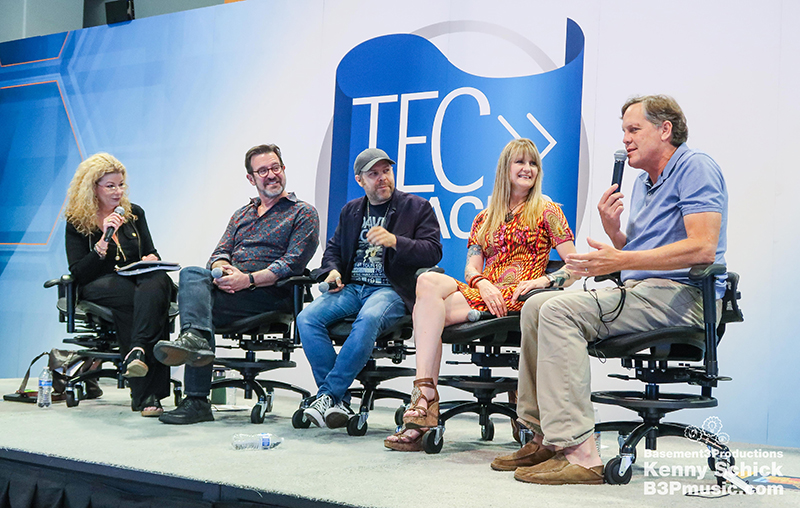 Also at the TEC Tracks booth, where I seemed to spend the better part of 2 days, was the Future of Studio Technology panel. Moderated by Journalist and Author Dan Daley, the panel included Craig Anderton,  Bobby Holland, John Bigay,  and Dan Boatman. This was interesting to me, as I was around to see the time when we had to go to a studio just based on the size and complexity of the machinery that captured sound—those big 'ol 2 inch tape machines and boards were no joke!
As a super early adopter of the 'home recording' revolution(I got an ADAT in the early 90's which was the beginning of the ability to make album quality music at home accessible), this is always interesting to me, as it represents the democratization of recording, but on the flip side, sometimes the dying of a craft I hold dear. There was a lot of spirited discussion sort of aimed at talking about how a studio can now (almost) be an iPhone or a tablet.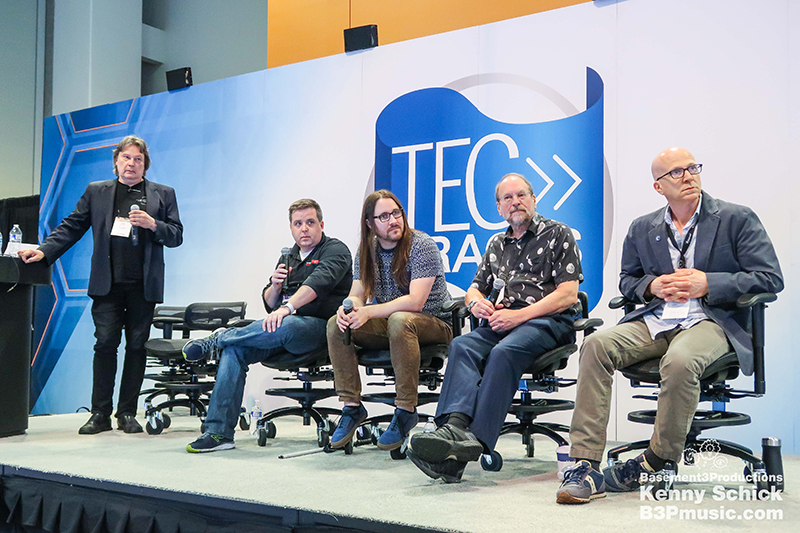 NAMM U
By Saturday, I was experiencing the 'shell shock' that can happen at Summer NAMM Nashville (usually the first day in LA, haha), but there was more to see and do! This day was spent next door to the TEC Tracks booth at the NAMM U Retail – Idea Center Booth. I started out at DIY Tips for Marketing and Social Media Success… great discussions moderated by Laura Whitmore, with Kate Richardson, Dan Wise, and Sarah Command. Lots of discussion about cross promoting and partnerships, as well as being real and personal. Also, curating playlists on Spotify, etc., and coming up with 'disruptive' ways to become noticed in this saturated arena.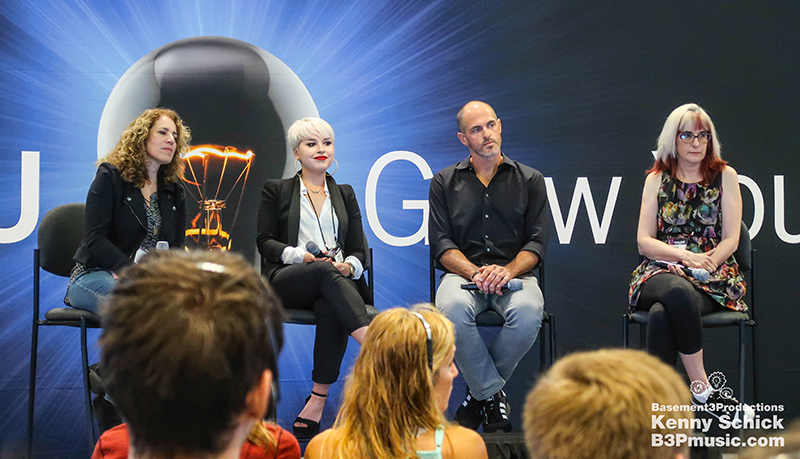 Next up was Success Secrets for Independent Songwriters and Artists, moderated by Thornton Cline. On the panel were Bryce Hitchcock, Brenda Best, Trammell Starks, and Jenny Slate Lee. Again, discussing the tough terrain to navigate getting your music out to the world and how to find different avenues to get through the masses to achieve success.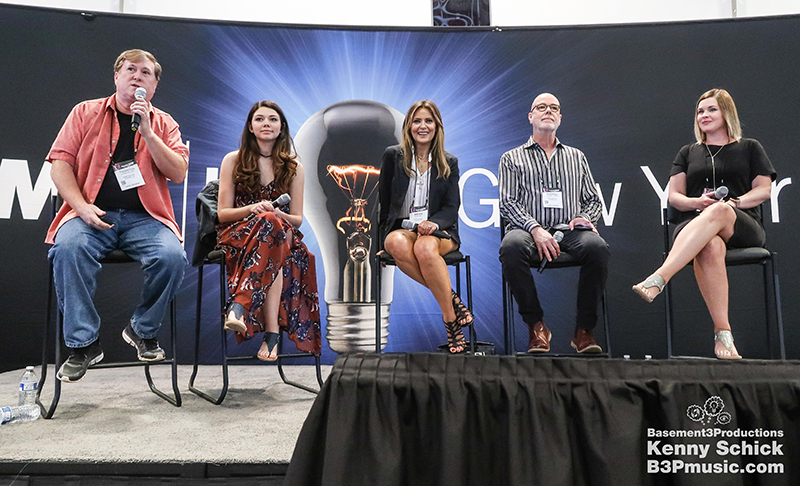 Now being the studio and production nerd I am, my day at the NAMM U booth was centered around being right up front for the Pensado's Place Live at Summer NAMM session. Always with spirited discussions about audio geekery and great stories about recording sessions, Dave Pensado, and Herb Trawick joined up with Blackbird Studio owner John McBride for a super fun session. John's story of the origins of Blackbird and the development of it's academy alone were worth 'the price of admission'.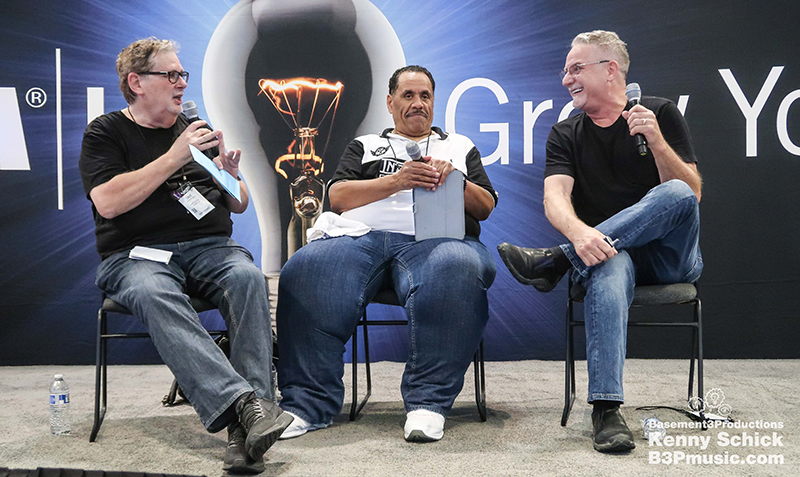 VINTAGE KING
After this session, I wandered around stunned a bit more and tried to win some cool music gear as I usually do at these events, but I had one more event to attend in Berry Hill at my favorite music porn shop, Vintage King! Here was the destination for awesome gear, more panels, and… FREE BEER! Despite the oppressive heat outside where the panels were held, there was more captivating discussion during a panel moderated by Warren Huart(Produce Like A Pro) with panelists Jeff Balding, Ryan Freeland, Ryan Hewitt, and Kim Rosen. Following this was a session with Joe Chiccarelli interviewed by John McBride, back in his Blackbird Studios neighborhood.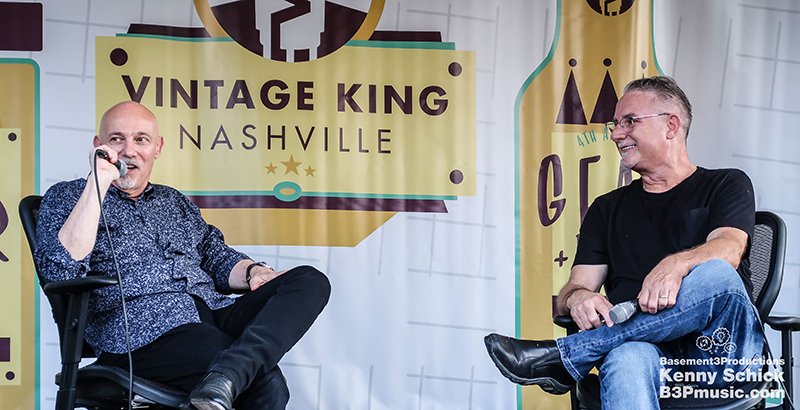 And just like that, my time at Summer NAMM Nashville came to an end, my head filled with ideas and knowledge, and my wallet filled with cards of folks I'd met. You can get tickets to NAMM and Summer NAMM Nashville by becoming a NAMM member. Also if you know someone who is a member they have the power (but limited numbers), to get you in. You can also apply for a ticket by registering to get your ticket – there is criteria for being able to get one, you have to be in the music industry as a professional or a teacher etc… they will give you a nay or yay on being approved and then you can buy a ticket, usually $50. It's so worth it, there is so much to see, new technology, new products, new people to meet. This year at Summer NAMM Nashville, the public were allowed to attend on Saturday with a $20 ticket at the door. Lightening100 Radio also gave away $10 tickets on their show – and did live coverage of the event throughout the days.
Kenny Schick is a Producer, Multi-Instrumentalist, Recording Engineer and Singer Songwriter at Basement3Productions located in Nashville and the Bay Area California. If you are interested to know more about Kenny Schick or work with/record with him contact him here. He specializes in Producing Singer Songwriters and his main aim is to have artists retain their uniqueness and individual sounds. He tries to keep up to date with new gear and has all the tools you might need to produce world class music.