Singer Songwriter and Artist Kurt Gundersen
Releases New Album 'Wake Up and Fly'
Produced by Kenny Schick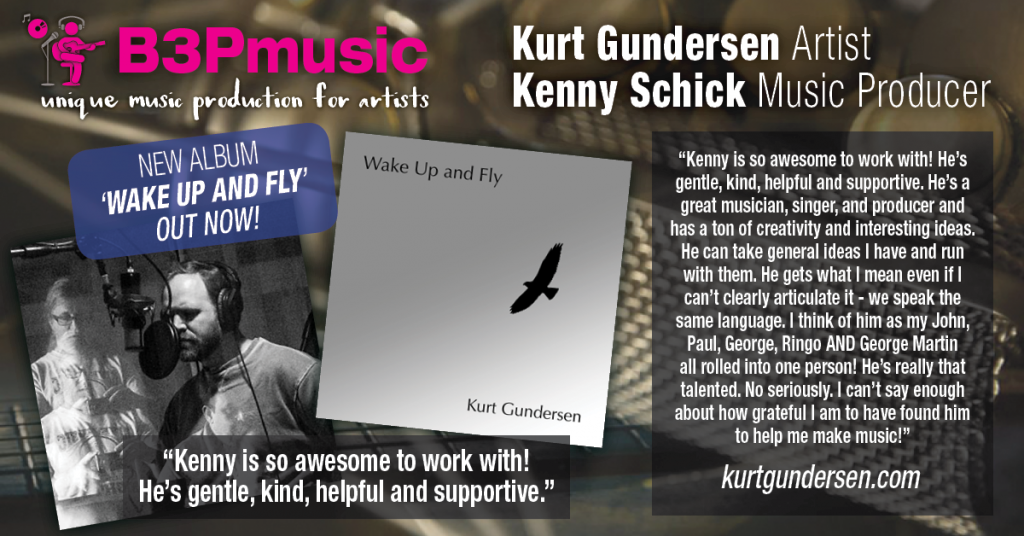 WHAT KENNY HAS TO SAY ABOUT KURT
Kurt Gundersen is one of those artists who really makes me love my job—he writes thoughtful cool songs and has a wide open mind for where they can go. Kurt contacted me just by chance on LinkedIn—it was mid September of 2017, and Sabine and I had just decided we were headed to Nashville, so Kurt was one of the last people I booked while still living in California.
We recorded tracks for a few songs, and then I worked on them up until the time we left. Kurt's initial demos gave me a very acoustic, folky vibe, so that's what I initially came back with…he liked them, but thought the might be a little too tame…then we talked about his influences more—Tom Petty, Camper Van Beethoven, etc., and I knew then I didn't have to be conservative in terms of production.  that's when the fun really started and we both were able to really think of many more possibilities for his songs.
We got the first 2 songs done and then we continued to work after I got to Nashville, passing files back and forth via Dropbox, which is actually mostly how I work. We'd get the basics and feel of the songs dialed in, then on my bi-monthly trips back to California, we'd get into a studio and record his parts. The songs would then be completed and mixed here in my Nashville studio. The process was super fun, and I'm super proud of Kurt and his really great 1st album. I'm really proud of the very cool end product we came up with, and now it's time for the world to enjoy his great songs!
WHAT KURT HAS TO SAY ABOUT KENNY
Kenny is so awesome to work with! He's gentle, kind, helpful and supportive. He's a great musician, singer, and producer and has a ton of creativity and interesting ideas. He can take general ideas I have and run with them. He gets what I mean even if I can't clearly articulate it – we speak the same language. I think of him as my John, Paul, George, Ringo AND George Martin all rolled into one person! He's really that talented. No seriously. I can't say enough about how grateful I am to have found him to help me make music!
MORE ABOUT KURT: https://kurtgundersen.com
MORE ABOUT KENNY SCHICK: https://b3pmusic.com/production-recording